The temperature may be getting colder, but these easy winter recipes will warm you right up! Whether you're entertaining guests or looking for a hearty meal for the family, these recipes will do quite nicely (without all the hassle).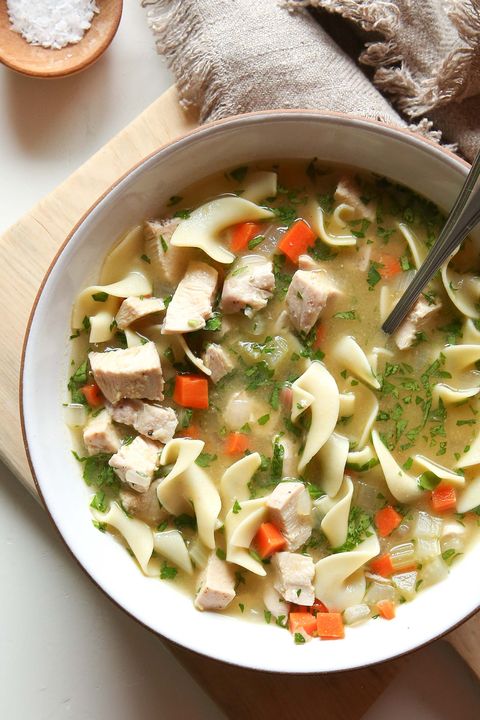 1. Chicken Noodle Soup
This delicious chicken noodle soup recipe couldn't be any easier. (Especially if you make it in a crock pot.) Prepare it for someone who's feeling under the weather or as an easy weeknight meal. Have extra veggies laying around? Add them to the pot! Peppers, spinach, or kale will do quite nicely.
Ingredients
1 tsp. extra-virgin olive oil
1 c. diced onion
2 celery stalks, diced
2 carrots, diced
2 cloves garlic, minced
2 tsp. fresh thyme
1 lb. boneless skinless chicken breast, cut into 1/2″ pieces
Kosher salt
Freshly ground black pepper
32 oz. low-sodium chicken stock
1 lb. egg noodles
1/4 c. freshly chopped parsley
Directions
In a large pot over medium heat, heat oil. Add onions, celery, and carrots and cook until softened, 6 minutes. Add garlic and thyme and cook until fragrant, 1 minute more.
Move vegetables to one side of the pot and add chicken. Season with salt and pepper and cook until no pink remains, 6 to 8 minutes. Add stock and 1/2 cup of water and bring to a boil.
Add noodles and cook according to package instructions. Season to taste with salt and pepper. Add parsley and serve immediately.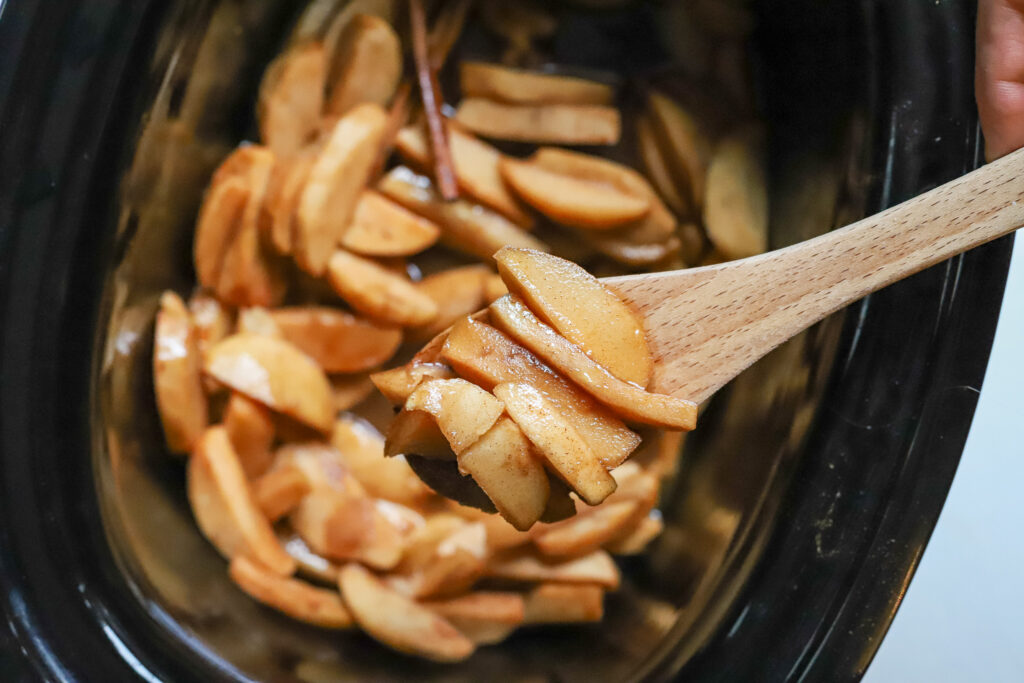 2. Easy Apples with Cinnamon
This simple recipe can be served many ways and you can prep it in minutes. Try easy apples with cinnamon over a scoop of vanilla ice cream or add it to a bowl of oatmeal in the morning. As an added bonus, it will fill your home with a warm spiced aroma. (Tip: for an even richer flavor, add 1 teaspoon of pure vanilla extract.)
Equipment
Crockpot – 6 quart or larger
Apple Peeler
knife
Ingredients
6 large apples (any variety)
2 teaspoons ground cinnamon
½ cup granulated sugar (use ¾ cup if you like the recipe sweeter)
2 tablespoons butter
lemon juice (optional)
Instructions
Peel and core your apples, then cut them into ⅓ to ½-inch slices.
Place your sliced apples in your crockpot. Drizzle with lemon juice if using. Then, sprinkle them with cinnamon and sugar and stir to coat. Place butter on top of the apples in small chunks.
Close the lid to the crockpot and cook your cinnamon apples for 3 hours on high or 6 hours on low. Stir halfway through cook time.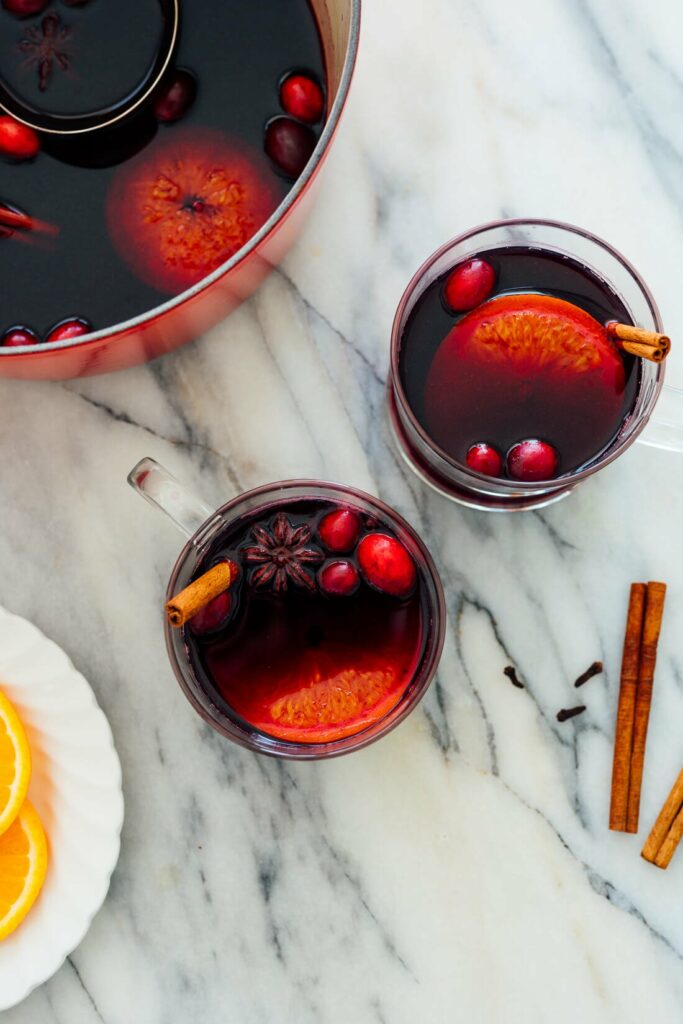 3. Classic Mulled Wine
Cozy up to the last of our easy winter recipes. This classic mulled wine is decadent and delicious — a great way to warm up (and wind down) after a winter day. It's also a great way to get in the holiday spirit.
Ingredients
1 large orange
1 bottle of affordable Merlot, Zinfandel or Garnacha
¼ cup brandy
1 to 2 tablespoons maple syrup or honey, to taste
2 whole cinnamon sticks
3 star anise
4 whole cloves
Optional garnishes: Fresh whole cranberries (about ¼ cup), cinnamon sticks, additional orange rounds or half moons
Instructions
Slice the orange in half through the round middle, then slice one of the halves into rounds. Place the rounds into a medium heavy-bottomed pot or small Dutch oven. Squeeze the juice from the remaining oranges into the pot.
Pour the wine into the pot, followed by the brandy. Add 1 tablespoon of the sweetener for now. Add the cinnamon sticks, star anise and cloves.
Warm the mixture over medium heat until steaming (about 5 minutes), and keep an eye on it. When you start seeing the tiniest of bubbles at the surface, reduce the heat to low.
Carefully taste, and add another tablespoon of sweetener if it's not sweet enough for your liking. If it's not spiced enough, continue cooking over very low heat for 5 to 10 more minutes.
Serve in mugs with your desired garnishes. If you're adding cranberries, you can add them to the pot to make it look extra festive.
If you expect to finish the mulled wine within 20 minutes or so, you can keep it on the stove over extra-low heat (it will become more spicy with time). Otherwise, remove it from the heat, cover, and rewarm over low heat if necessary. Leftovers will keep in the refrigerator for a couple of days, covered (pour it through a strainer if you don't want it to become any more spicy than it already is).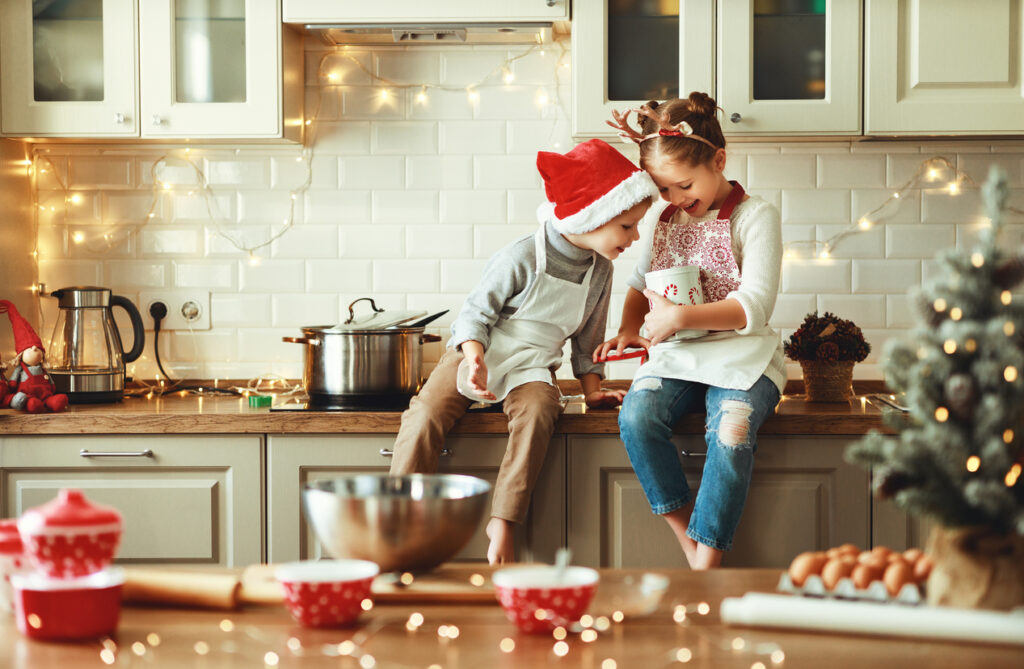 Try these easy winter recipes in a new Foxlane home
Imagine: next winter you could be serving all of these tasty recipes to friends and family in your new Foxlane home. We have a number of stunning neighborhoods throughout Pittsburgh, Phillidelphia, and Coastal Delaware — along with a wide range of floor plans for you to choose from. Contact us today to learn more!