If focusing on your health is one of your New Year's resolutions, we're here to help. We've compiled some easy, healthy recipes to get you on track (or keep you on track) heading into 2023. Enjoy!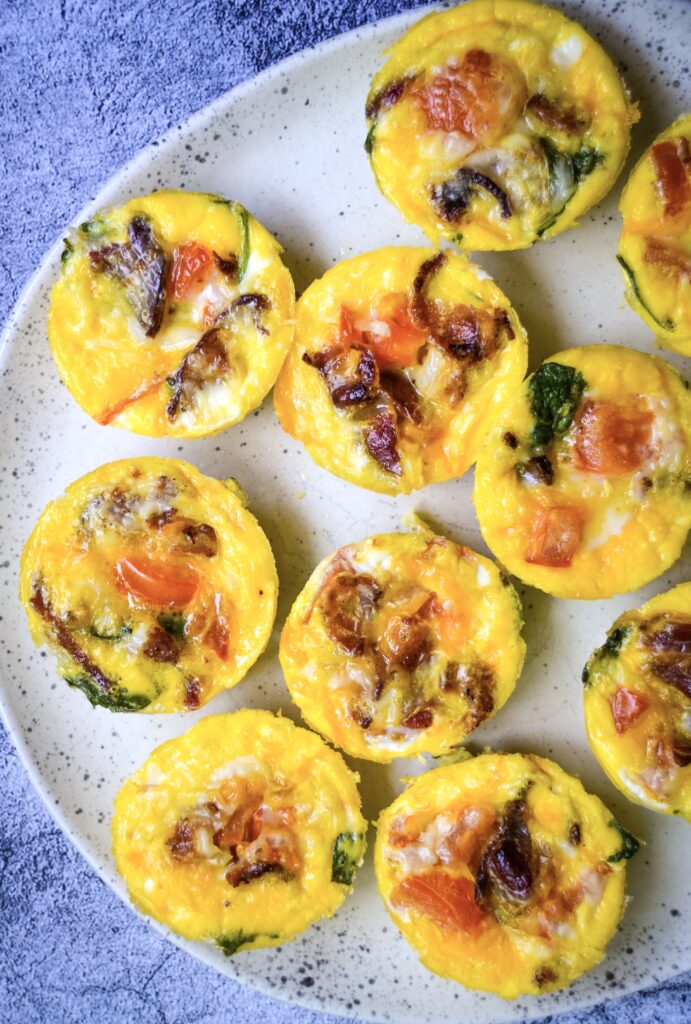 For Breakfast: Easy Egg Bites
The first of our healthy recipes is a really easy one: Easy Egg Bites. They're a great way to pack protein and veggies into a convenient grab-and-go meal or snack. This freezer-friendly breakfast option is also great when you're in a rush — all you need to do is pop them in the microwave to reheat.
Ingredients
1/2 cup baby greens, chopped ( baby spinach works great)
1 small tomato, diced and seeded
4 strips bacon, cooked and crumbled
1/4 cup shredded cheddar cheese
7 large eggs
1/4 cup milk
salt and pepper to taste
Instructions
Preheat oven to 350 degrees F.
Spray muffin tin generously with nonstick spray.
In a medium bowl mix eggs, milk, salt, and pepper.
To each muffin slot, add about 1 tbsp of greens, tomatoes, bacon, and a sprinkle of cheese.
Pour over egg mixture to each slot leaving little room at the top.
Bake egg bites for 20 minutes. If the top is not fully cooked return to the oven cooking in 3-minute increments.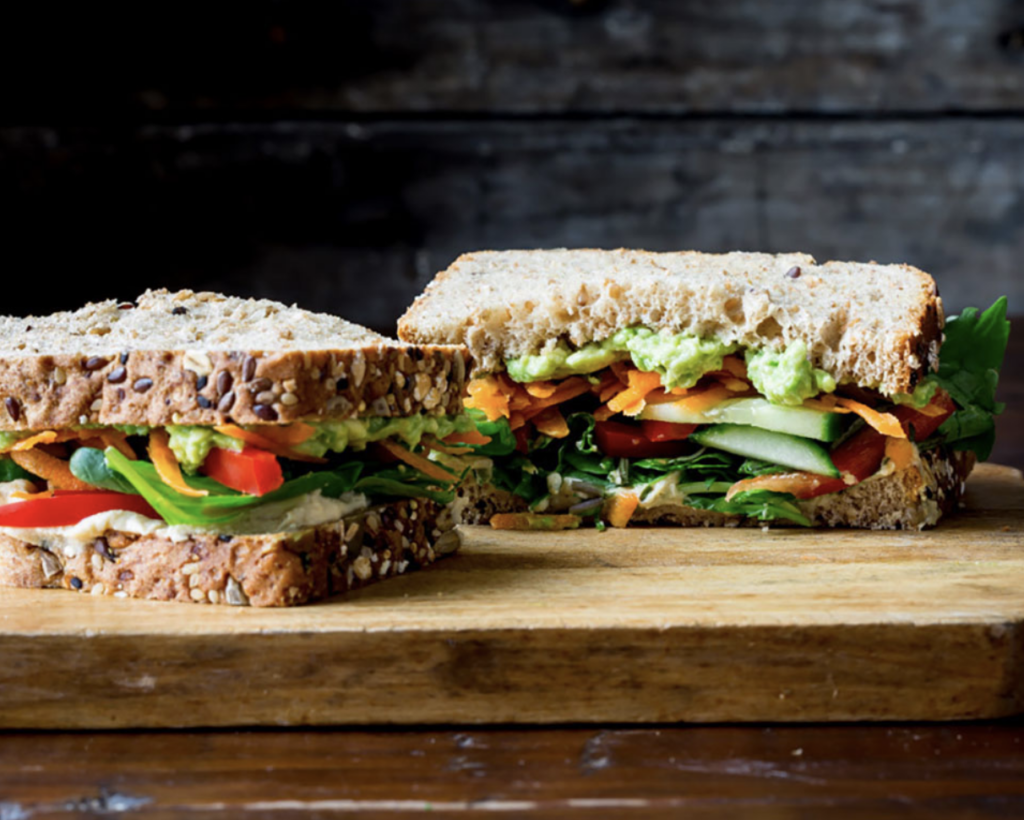 For Lunch: Veggie and Hummus Sandwich
This delicious sandwich is piled high with nutritious veggies and flavor. Switch them up to include your favorites, or try whatever is fresh for the season. By trying different flavors of hummus, the possibilities of this Veggie and Hummus Sandwich are almost endless!
Ingredients
2 slices whole-grain bread
3 tablespoons hummus
¼ avocado, mashed
½ cup mixed salad greens
¼ medium red bell pepper, sliced
¼ cup sliced cucumber
¼ cup shredded carrot
Instructions
Spread one slice of bread with hummus and the other with avocado. Fill the sandwich with greens, bell pepper, cucumber, and carrot. Slice in half and serve.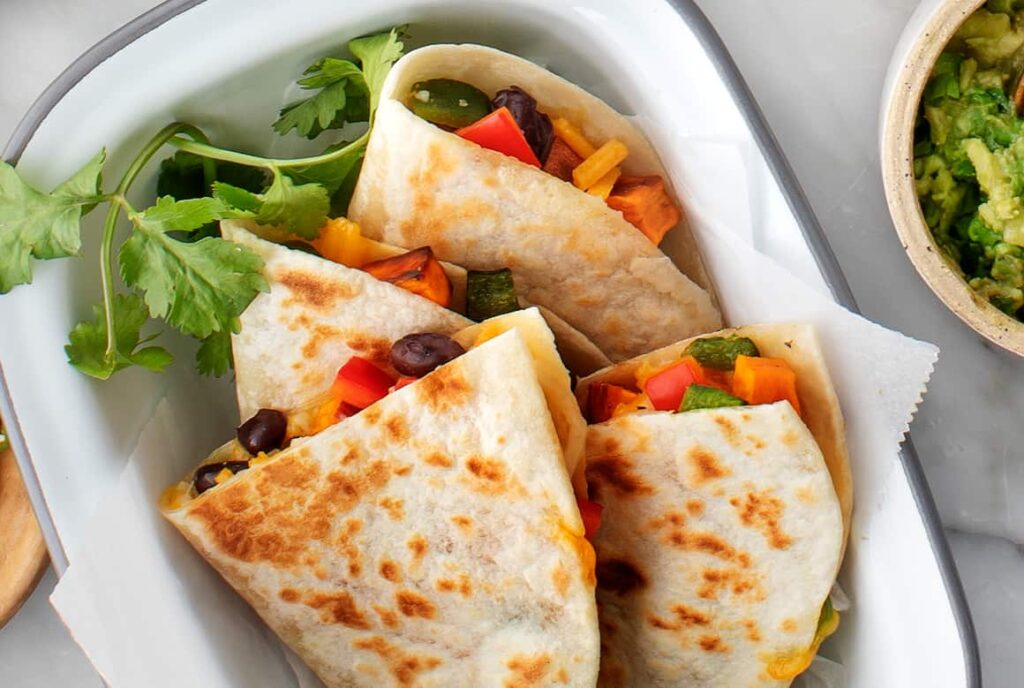 For Dinner: Vegan (or Vegetarian) Quesadillas
This vegan quesadilla recipe packs a lot of nutrition into one easy-peasy dish. It's perfect for those busy weeknights when you still want to eat healthy. You can use your favorite store-brand vegan cheese, or swap it out for regular shredded cheese if you prefer. You can also customize the veggies any way you'd like. (Try pickled red onions, refried beans, butternut squash — so many options!)
Ingredients:
2 poblano peppers
8 flour tortillas
1½ cups shredded vegan (or regular) cheese
1 sweet potato, diced and roasted
1 red bell pepper, stemmed and diced
1/2 cup cooked black beans, drained and rinsed
¼ cup chopped scallions
1 serrano pepper, thinly sliced, optional
Instructions:
Roast the poblanos. Char the peppers over a gas burner or under a broiler until the skin is blackened all over. Remove them from the heat, place in a bowl and cover with a towel or plastic wrap for 10 minutes. Uncover and use your hands to peel and remove the loose skin. Slice off the stem, remove the seeds, and slice it into strips. 
Assemble tortillas with sprinkles of cheese, sweet potatoes, poblano slices, bell pepper, black beans, scallions, and serrano, if using. Fold each tortilla in half and cook in a hot skillet for about 2 minutes per side. Serve with guacamole, salsa, lime wedges, serranos, and cilantro.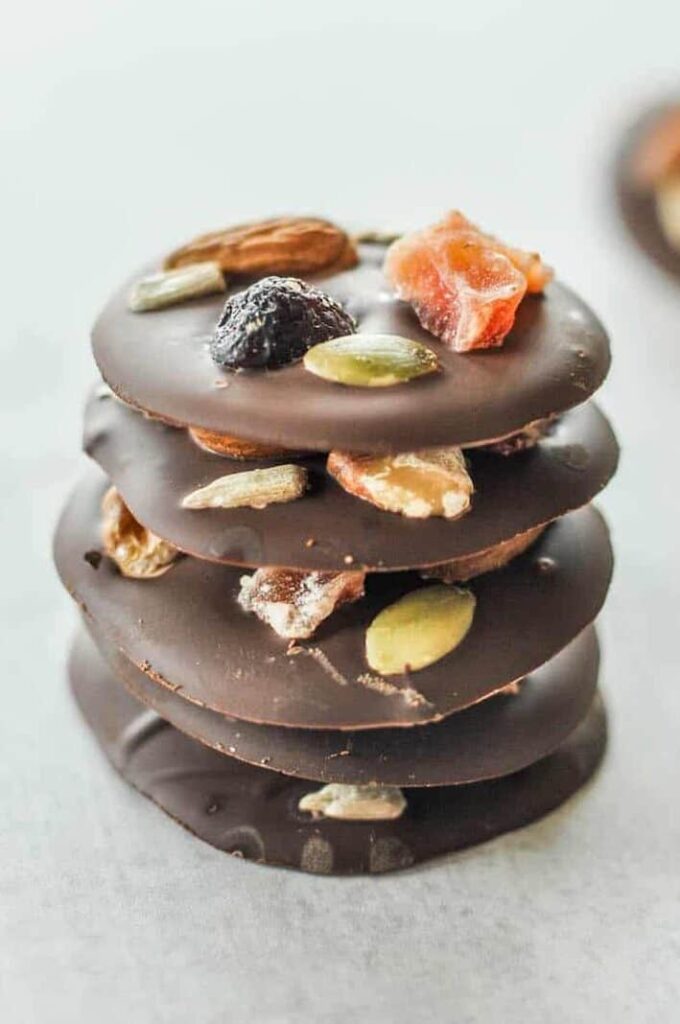 For Dessert: Fruit Nut Chocolate Bites
Just because you're eating healthier doesn't mean you can't indulge your sweet tooth! These (really) easy Fruit Nut Chocolate Bites are delicious and they're a healthier way to end the day.
Ingredients:
12 ounces dark chocolate chips
4 ounces high-quality trail mix
Instructions:
Lay out a large piece of parchment paper. 
Melt the dark chocolate in the microwave for 1 to 2 minutes. Do not let the chocolate burn, check every 30 seconds. 
Scoop one tablespoon of chocolate onto the parchment paper and using your spoon, swirl it into a circle.
Top with the trail mix – ideally a mixture of fruit, nuts, and seeds. Let cool until chocolate has hardened.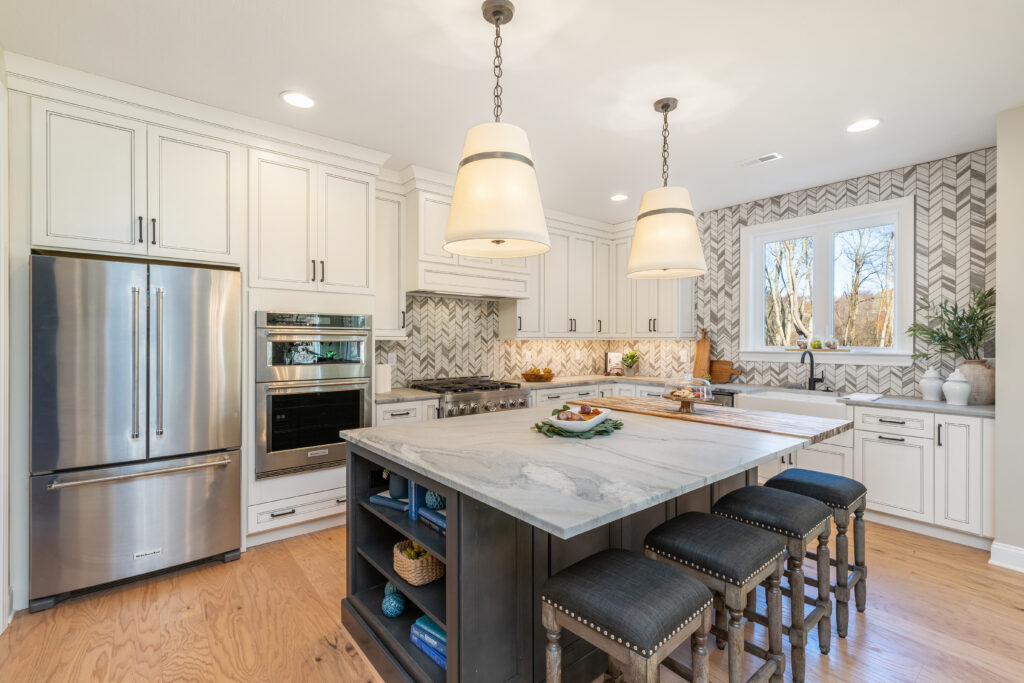 Imagine making these healthy recipes in a new Foxlane home
Start your New Year off right — in a brand new Foxlane home! We offer a variety of floor plans in charming neighborhoods across Pittsburgh, Philadelphia, and Coastal Delaware. Contact a Sales Rep today to learn more. And here's wishing you and yours a very happy New Year!